Pumping Unit | Caprock | 912 (87435160)
Products

| | |
| --- | --- |
| Name | Pumping Unit | Caprock | 912 |
| Code | 87435160 |
| Type | Used |
| Brand | Caprock |
| Category | Pumping Units |
| Price | $48,950.00 |
| Unit | Each |
| Location | Southern, California |
| Condition | Good |
| Available Quantity | 1 |
| Short Description | Pumping Unit | Caprock | 912 BBL |
Equipment Details
Manufacturer: Caprock
Model: C912D-365-192
Size/Dimensions: 912 
Location:  California
Caprock Pumping Unit Features
Caprock Pumping Unit – The Caprock Gear Box features a combination of a ductile iron housing and forged high tensile cast steel gearing to produce a gear box that is superior to the common cast and steel combination.
Ductile Iron Case Houses component gears with a split center line for easy disassembly
Double Helical Gears Heat Treated Steel Gear Teeth exceed API specs for pitting & bending stresses
Center Relief for positive relief flow to all gear tooth interfaces and a submerged gear & wiper system
Alloy Steel Shafts Rotating in oversized precision roller bearings. No bronze bushing to seize and no shaft to wear out
The Caprock Pumping Unit bearing assemblies feature machined ductile iron casting with over sized double row self aligning roller bearings and large lubricant reservoir..
The Caprock Pumping Unit horsehead is fitted with steel casting to provide totally safe lockouts during inclement weather and regular maintenance. The horsehead is easily removed and attached for well servicing.
The Caprock Pumping Unit brake has a positive stop locking pawl for totally safe lockouts during inclement weather and regular maintenance
The Caprock Pumping Unit counterbalance weights and crank arms have integral t slots and graduate markings for fast and easy installation and positioning of counter weights. The cast Rack and Pinion locks the weights in place.
All CAPROCK Pumping Units have multiple base configurations available to fit all customer application requirements:
T-Base High Prime for electric power source applications
Wide Base Low Prime for gas/electric power source applications
T-Base Low Prime for gas/electric power source applications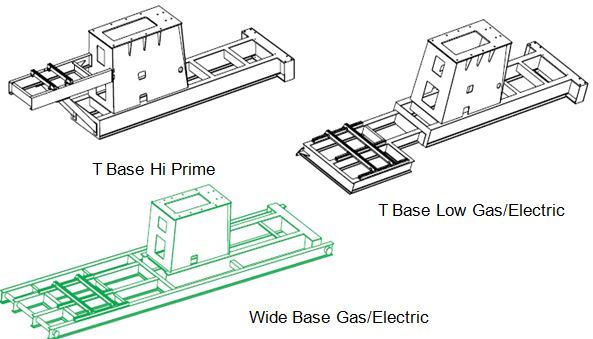 Important Buyers Notice: All items are Sold "As-Is" with "No Warranty" expressed or implied. Items offered for sale may be damaged, inoperable and/or missing parts. You are strongly urged to carefully review each photo and video as well as personally inspect the item before making a decision to purchase. Free Oilfield Quote is not responsible for any missing or damaged equipment, part, item or accessory and shall not be held liable for any damage prior to or during the removal and/or delivery of the equipment. Any and all agreements contrary to the above disclaimer must be in writing and agreed upon up front and prior to any transaction.
Payment: Payment in full is required within 3 days of the invoice date. Acceptable payments: Wire Transfer, Cashiers Check.
Loading Requirements: Purchaser is responsible for all loadout expenses (cranes, man-lifts, sky tracks, operators, riggers etc.) including shipping and logistics and shall contract and pay any associated costs directly with contractors.
Safety Requirements: Safety Glasses, Hard Hats, Steel Tip Boots Required on all Free Oilfield Quote loadout locations.
Warranty Information: This Item is being sold AS IS-WHERE IS with "No Warranty" expressed or implied.
Removal Policy: Items must be removed 10 days after the invoice is generated unless otherwise agreed to in writing . Unclaimed items beyond the removal deadline are subject to additional fees and/or forfeiture.
Removal Deadline: 10 days after the invoice is generated.
Buyer Requirements
Buyers are required to examine all items prior to removing them from the location. If the item differs significantly from how it was represented in the lot description, the Buyer must contact Customer Care prior to removing.
Buyer must schedule an appointment with the yard prior to removal.
The Buyer is required to remove all purchased items from the seller's location by the removal deadline. Failure to do so may result in the buyer being assessed fees in the amount of $50.00 per day by the Seller and/or the Company. Any storage fees owed must be paid directly by the buyer and are the buyer's sole responsibility.
This Item is being sold AS IS WHERE IS. There is no customs, export, or import assistance is available from our Company, the Seller, or the Storage Location. Our Company, Seller, and Storage Location expressly disclaim the appropriateness of this item to be exported from, or imported to, any country. Shipping, logistics, transportation, loading, customs, export, and import activities, and all associated costs, are the sole responsibility of the Buyer.